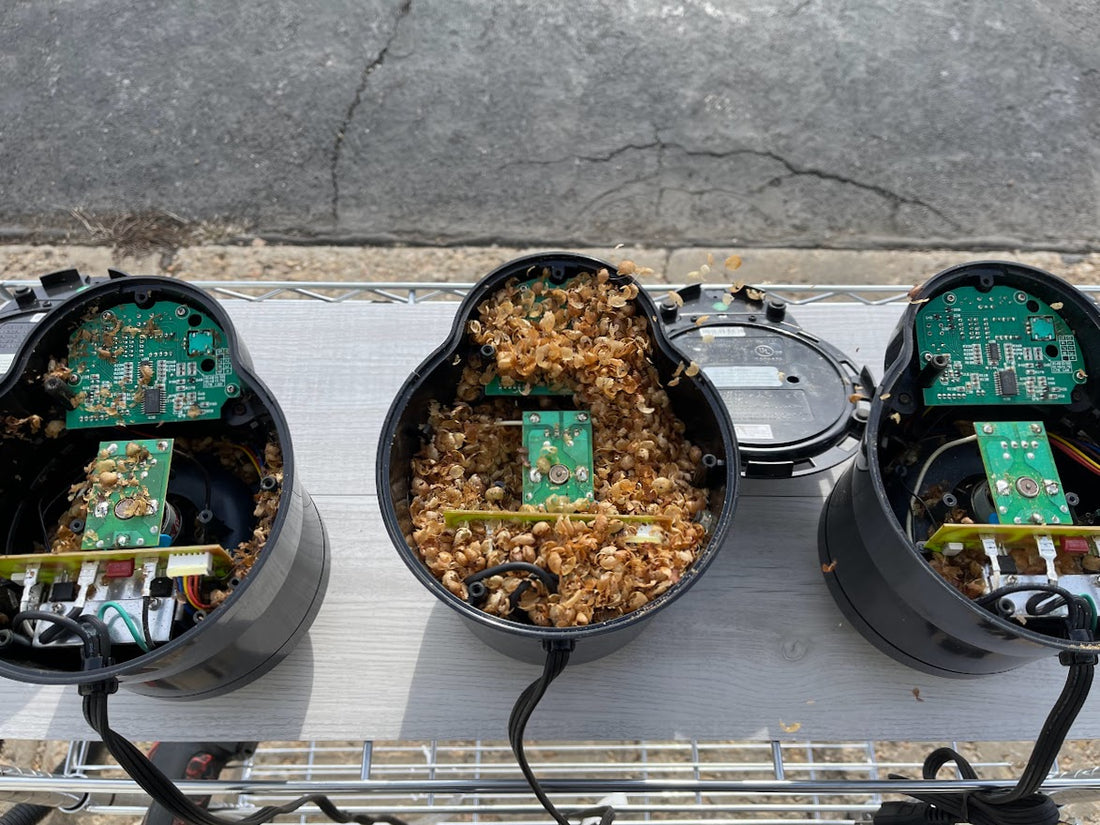 We test the best method to clean the base of your Fresh Roast SR540 or SR800.
We went ahead and tested a couple ways to clean out the chaff out of your roaster! 
WARNING- Do not remove bottom plate, Doing this will void any and all warranties. 
We started with 3 bases that were returned for warranty.  We inspected them and decided to use them as an example of what you can do to help keep your Fresh Roast SR540 or SR800 Green Coffee Roaster running new.  This will also apply to the older Fresh Roast models.  
Below you will see three bases.  The bottom plates were removed for documentation of chaff and then re-installed for the actual cleaning.  
The middle roaster had a very high amount of chaff, we believe this customer was roasting with no top assembly and roasting a very high chaff bean. 
The roaster to the left will be cleaned with a shop vac with a small adapter, around 1".  We put the hose on the top and bottom of the Fresh Roast roaster and in-between switching from the top and bottom vents we gave it a little shake. 
The next and best option is using an air compressor with about 100 psi.  A small nozzle tip will help remove chaff.  We blew air into the top and bottom vents and gave the base a little shake between switching from top and bottom vents.  The air compressor was used on middle roaster and the roaster on the right.  
Here is the final picture of the clean bases.  Remember we did not remove the base plates to get the machines this clean!  
As you can see, the roasters look brand new and the chaff is removed. 
Final cleaning would be done on the outer housing with a lint free cloth and window cleaner.  
Reach out to us if you have any further questions or comments.